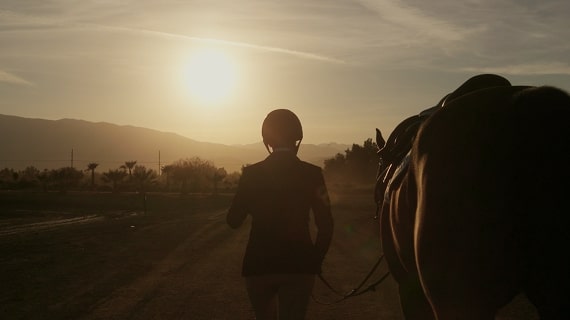 A love letter to the sport of show jumping, Desert Flight is a documentary short film that explores the unique relationship with the horse and why people dedicate so much to the equestrian life.

Filmmaker Samia Staehle's goal was to capture the visceral way in which horses enrich our lives and heighten our senses. The film showcases the amazing kind of people that horses always seem to attract: individuals of enormous character, possessed of infinite work ethic, and often a very sharp sense of humor.

Set in Thermal, California, the dry beauty of the desert and the horse show's hidden dusty trails are reminiscent of her one-time home in India, a land of adventure and freedom.

Part of the Equus International Film Festival. Your purchase of a ticket to any Equus International Film Festival event constitutes the purchase of an All-Access Pass which you can use to reserve a seat to any or all Equus Film Festival events. Check your email after purchasing a ticket to get a promo code you can use online to reserve seats or bring your ticket to the Roxy Box Office.
Screening Times
Film Info
John Azoni, US, 39 minutes