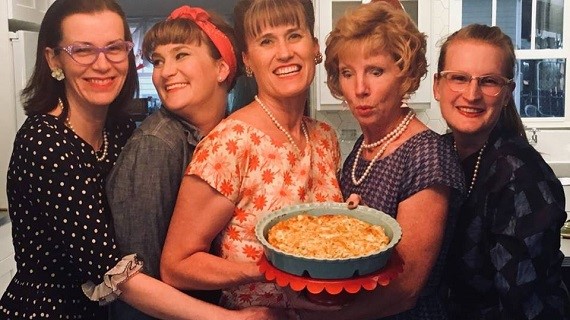 Local favorites Rosie Ayers, Teresa Waldorf, Salina Chatlain, Bridget Smith and Anne-Marie Williams star in 5 Lesbians Eating a Quiche by Andrew Hobgood and Evan Linder, Thursday, Friday and Saturday, October 25, 26, and 27, at the Roxy Theater.

It's 1956 and the Susan B. Anthony Society for the Sisters of Gertrude Stein are having their annual Quiche Breakfast. Will they be able to keep their cool when Communists threaten their idyllic town? With a run-time of less than 75 minutes, this deliciously delightful and silly play gets the whole audience cheering for the main characters and their precious pie.

Ayers, Waldorf, Chatlain, Smith and Williams are best friends and actors who have collaborated on numerous past projects including The Three Sisters of Weehawken, Wonder of the World and Parallel Lives. Teresa Waldorf and Rosie Ayers and Salina Chatlain were last seen on the Roxy stage in the sketch comedy night Standing Womb Only, for which they wrote all of the material. Ayers and Waldorf also perform several times a year as the ever-popular Home Shopping Girls: Lucinda and Lulinda.